Seven years of multidisciplinary research inform submission on animal-visitor interactions
Posted on Thu July 16, 2020.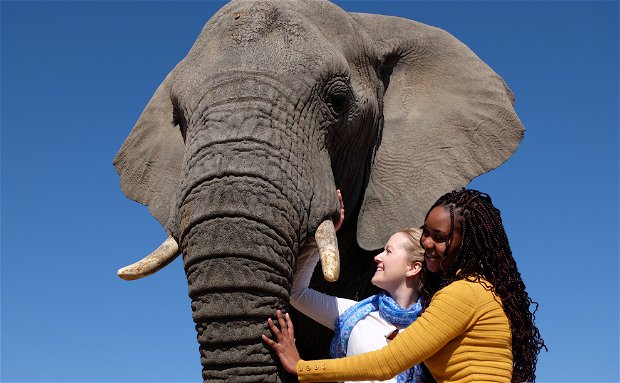 Media release from Conservation Guardians, 16 July, 2020
Animal scientists from Italy's University of Padua, working in conjunction with various South African institutions, have called on the Minister of Environment, Forestry and Fisheries, Barbara Creecy, to consider the results of seven years of ongoing research they've undertaken into animal-visitor interactions at local lion and elephant sanctuaries. 
This in response to the Minister's call for submissions to a High-Level Panel constituted to review policies, legislation, breeding, hunting, trading, and management of elephants, lions, leopards, and rhinoceroses in captivity.
The research - which remains ongoing - comes out of a joint venture between the Ethics Laboratory for Veterinary Medicine, Conservation, and Animal Welfare at Padua University; KwaZulu-Natal-based consultancy, Conservation Guardians; the National Zoological Gardens (NRF); and the University of Kwazulu-Natal (which has joined the project more recently). 
The submission was authored by the University's Prof. Barbara de Mori and Greg Vogt of Conservation Guardians, with the help of Padua's Prof. Simona Normando, the scientific advisor to the project.
"We're concerned that the current debate - which has resulted in the publication of  guidelines developed by SATSA, and which appear to have been accepted by the media and various sectors of society as the country's default position - fails to take into account the two most important stakeholders: the animals themselves, and the  visitors to the facilities where animal-visitor interactions take place," said Mr. Vogt.
He said that the research project grew out of concerns for the welfare of elephants in captivity that long preceded the SATSA process. 
"We have to remember that the elephant sanctuaries of today were created in response to public outrage at past practices like culling programmes and the treatment of orphaned elephants, and that animals that have been placed in care can't often be reintroduced into the wild." 
The group believes that its animal-visitor interactions research has produced - and continues to produce - empirical evidence that provides the Minister's advisory panel food for thought, especially since this is probably the only dedicated research project that focuses entirely on the issue the panel is required to address.
"Our work in South Africa intertwines research with educational and participatory processes that all share the single aim of producing a workable protocol for animal-visitor interactions based on what's best for the animals themselves," said Prof. de Mori, who also heads another research group that's recently developed similar protocols for zoos and aquariums in Europe. 
"Our submission describes our work to date - which includes seven years of research into the physiology, behavior, and epidemiology of the animals, and also extensive research into the value or otherwise of visitor experiences.
"As far as the animals are concerned - the first rank of stakeholders in this situation - the data gives them their 'voice' by indicating their actual (rather than perceived) state of mental and physical health.
"Importantly, our research debunks the commonly-held misperception that visitors are misinformed (or even duped) about the welfare of animals in local facilities, or that they're simply unable to make informed decisions."
Prof. de Mori said that the project includes collecting data from as many expert and interested stakeholders as possible. 
"Animals do not have the same way of expressing themselves as we do, so their needs are reconstructed and filtered through our interpretation," she said. 
"We've set out to seek expert consensus through the use of long-established and internationally accepted ethical reasoning processes, our concern is that organisations like SATSA and the NSPCA have thus far failed to engage with us - despite our many invitations," said Mr. Vogt.
"This in our opinion has skewed the debate in favour of the emotions and opinions of a limited number of stakeholders without taking the actual situation of the animals - or their voice - into account
"Since our findings are based on empirical data, we therefore hope to balance the debate, and  give the animals (and after them, the visitors) the final say," he said. 
Download the submission document here (pdf, 850 kb).
+
Notes to editors: science papers
Authors: Barbara de Mori 1,2,†, Linda Ferrante 1,2,†,* , Daniela Florio 2,3 , Elisabetta Macchi 4, Ilaria Pollastri 4, and Simona Normando 1,2
* Correspondence: linda.ferrante@phd.unipd.it; Tel.: +39-328-7215722 
† These authors contributed equally to this article.
Received: 23 May 2019; Accepted: 22 July 2019; Published: 25 July 2019
1. Department of Comparative Biomedicine and Food Science, Università degli Studi di Padova, viale dell'Università 16, Agripolis, 35020 Legnaro PD, Italy
2. Ethics Laboratory for Veterinary Medicine, Conservation, and Animal Welfare, Università degli Studi di Padova, viale dell'Università 16, Agripolis, 35020 Legnaro PD, Italy
3. Department of Veterinary Medical Science, Università degli Studi di Bologna, via Tolara di Sopra 50, 40064 Ozzano dell'Emilia BO, Italy
4. Department of Veterinary Science, Università degli Studi di Torino, largo Paolo Braccini 2, 10095 Grugliasco TO, Italy
Barbara de Mori 1,2, Elena Stagni 2,3, Linda Ferrante 1,2 , Gregory Vogt 2,4, Keith A. Ramsay 5 and Simona Normando 1,2,*
1. Department of Comparative Biomedicine and Food Science, Università degli Studi di Padova, viale dell'Università 16, Agripolis, 35020 Legnaro PD, Italy; barbara.demori@unipd.it (B.d.M.); linda.ferrante@phd.unipd.it (L.F.)
2. Ethics Laboratory for Veterinary Medicine, Conservation, and Animal Welfare, Università degli Studi di Padova, viale dell'Università 16, Agripolis, 35020 Legnaro PD, Italy; estagni.res@gmail.com (E.S.); greg@conservationguardians.co.za (G.V.)
3. Independent researcher, Via Ranzani, 17, 40127 Bologna, Italy
4. Shongweni Nature Reserve, Outer West, 3610 Kwa Zulu Natal, South Africa
5. Department of Agriculture Forestry and Fisheries, South Africa—former Scientific Manager, Animal Production, 20 Steve Biko former (Beatrix) Street, Agriculture Place, Arcadia 0031, Pretoria, South Africa; keithrms9@gmail.com 
* Correspondence: simona.normando@unipd.it; Tel.: +39-049-641-231
Received: 3 September 2019; Accepted: 15 October 2019; Published: 19 October 2019